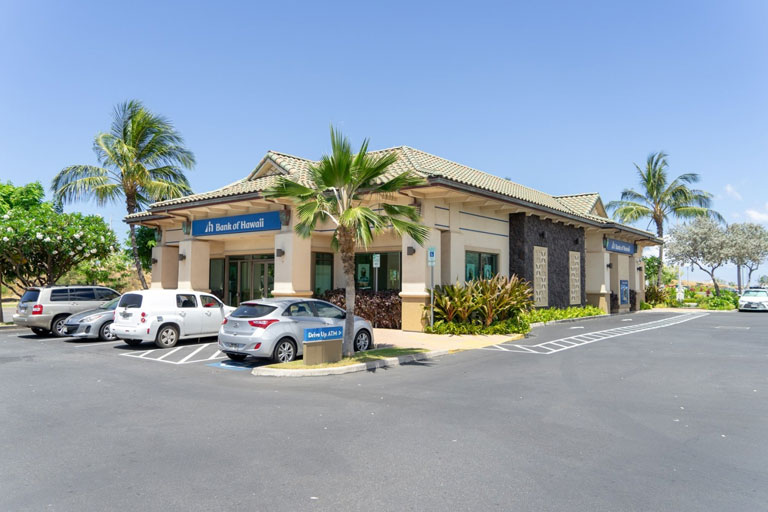 (HONOLULU – JULY 16, 2012) Commercial Asset Advisors, a Hawai'i commercial real estate leasing and investment sales firm comprised of industry veterans Sean Tadaki, David Asakura, and Maria Chan, has been retained by Bank of Hawai'i to handle leasing for their Kapolei offices.  This prime office building located in the heart of the Kapolei office district currently has 60,000 square feet of available space.  The property is an exemplary Class "A" office facility with unique features such as redundant power feeds from separate Hawaiian Electric grids, multiple emergency generators that can handle the entire building electrical load, raised floors for ease of voice and data systems installation, and ample parking that other areas of the island simply cannot offer due to space constraints.  Office spaces can be designed to easily accommodate tenants from under 1,000 square feet to over 40,000 square feet.
Michael Taylor, Bank of Hawai'i's Corporate Facilities, Vice President and Real Estate Manager said, "Sean, David and Maria are well respected and highly regarded within the commercial real estate market here in Hawaii. We are very pleased to have the entire team at CAA on board to assist with the leasing efforts at Hale O Kapolei."
"We are excited to have the opportunity to work with Bank of Hawai'i on this assignment.  The office market has some challenges, but with new competitive pricing structures BOH is ready, willing and able to provide an incredible office solution to the market at remarkable pricing", said Tadaki, who is managing partner at Commercial Asset Advisors.
Kapolei Area Description
Kapolei, the fastest growing area in the State of Hawaii, has become a major urban center in West Oahu.  Kapolei is a "smart" city, globally connected through state-of-the-art fiber optic and satellite communication networks.  It is the starting point of the planned 20-mile rail transit line that will connect it to downtown Honolulu and beyond.  Businesses in the area benefit from well-established retail, government services, parks, schools, growing numbers of households and easy access to the H-1 Freeway.
About Bank of Hawaii
Bank of Hawaii is the subsidiary of Bank of Hawaii Corporation, a regional bank holding company.  Bank of Hawaii Corporation, through its subsidiaries, provides a variety of financial services to businesses, consumers and governments in Hawaii, American Samoa and the West Pacific.
The company is listed on the New York Stock Exchange as "BOH."
For more information on Bank of Hawaii, please visit the website at www.BOH.com.